You just have to go with your gut all of the time. And I think that's what we do.
Vor zwei Monaten haben Suuns ihr viertes und zugleich eines der besten Alben des Jahres veröffentlicht. Auf Hold/Still klingt das Quartett aus Montreal merklich dunkler und digitaler, inspiriert vom pulsierenden Electro von Massive Attack und Radwan Ghazi Moumneh aka Jerusalem In My Heart. Umso erstaunlicher, dass Sänger Ben Shemie, Bassist Joe Yarmush, Keyboarder Max Henry und Drummer Liam O'Neill nach ihrem überragenden Konzert auf dem Maifeld Derby locker und mit Humor über Rhythmus, ihren Songwritingprozess und die Ungerechtigkeit von Streaming sprechen.
---
Apart from the obvious comparisons with new Kraut bands like Beak>, your new album reminded me a lot of Archive and Massive Attack's Heligoland. How did this trippy industrial vibe come about? Was that a conscious choice?
Joe: That's a beat thing, a real drum machine kind of thing. We did talk about Massive Attack and a lot of trip-hop stuff in the studio. I think it was semi-conscious. I like those groups, slow and "deep". I had to say it, sorry.
Liam: I think they're fine. I like that one song though that everyone likes, "Angel".
How digital are you as individuals in general? Do you use a lot of social media?
Joe: I think as much as the next person.
Liam: That has become a standard for musicians these days, everyone is doing that. I don't think that we're more plugged in than anyone else.
And in your music, do you use software like Ableton?
Liam: Sometimes, but not a lot.
Max: Not live.
Liam: I sometimes use it to create some drums, and as a creative tool. But stuff that happens in Ableton doesn't often make it onto the record.
How much has the collaborative album with Jerusalem In My Heart been an influence on your new album?
Joe: We got to tour a lot with that and it was interesting to record that record. That was almost all jamming from the beginning. It's always cool to work with someone else in a recording environment.
Ben: It was an entirely different way to work than we've ever done for a legitimate release, when we recorded it and mixed it. You do that and then you rethink how you approach recording in the future based on your experience. I mean, I don't think that we did something completely different this time around, but we certainly have a different idea of what it means to produce an album.
Joe: It was a really professional way to make a record and I think we all agree that it's the best sounding record that we're on. This gives you confidence, at least, to go back in the studio and not to worry about little things. It's more about a vibe than technical perfection.
On "Music Won't Save You", you said that "the old God don't listen to rock'n'roll no more". Do you think it's still possible today to make relevant music without having something electronic in it?
Liam: Definitely. That will never go away. The digital thing has just become a tool a lot of people use. At the end of the day it doesn't matter what tools you're using. If you have something amazing to say, it will come through in a variety of ways.
Another association I have whenever I listen to Hold/Still is the TV series Mr. Robot.
Joe: Yes, I have seen it and I loved it, I loved the music.
Have you thought about composing music for a visual medium?
Joe: Of course, that would be a dream. But we're not making movies, so we need other people to contact us.
Liam: We would love to do that. Contact us! Anyone!
What do you think of streaming?
Joe: Oh man. We've been struggling on this.
Liam: I don't like it. I won't do it! At the beginning of this tour, I thought that I was going to cave and go to Apple Music or Spotify, but you don't actually own that and I don't like that. And there's the illusion that you're supporting the artist because you are paying a flat fee. There is no way that for all the music that you end up consuming, what do you pay, like ten bucks a month? Does that seem like a fair price to listen to 500 records? That's crazy to me. I'm not going to do it.
Ben: What it does is it changes the way you listen to music, your relationship with music, and not in a good way. I mean, it's great to check out new stuff, but you listen to it with a little bit of a detachment, like you're not invested in it. I don't process it the same way, it's weird.
What are you resisting against on "Resistance"?
Ben: Well, what are you resisting against? Whoever listens to that song can build their own kind of narrative around that. And it could be inward or outward. It's for everybody to interpret that.
How do you compose minimalistic, electronic songs like "Careful" as a group?
Max: It's actually a lot of planning. Ben will structure a skeleton of a song – it's sometimes quite fleshed out and sometimes less so. But we have a goal when we get together to mix [planning and jamming]. If there's a sound that we need to dial in, we take a break and whoever it is will try to work on it for 30 seconds and then come back. I'm sure you've noticed that music that happens in a very collaborative way, that jammy music, tends to be pretty modal and kind of static. And our tunes that have come together just from jamming are songs that are just in one key, without a lot of changes. For the more particular songs, it takes planning and problem-solving. When you're working with technology, to see that things are synched together.
Liam: This one we jammed a lot in the studio.
Ben: You have to rely a lot on your instinct, and what music you like. Because a lot of what we're doing is treading this fine line between rock music and electronic music, you know? So at the end of the day, you can't really explain why something's working or not. You just have to go with your gut all of the time. And I think that's what we do. It's like you're drawing on your taste in music.
Do you have any preference of rhythm over harmony and melody?
Liam: I don't like melody. [laughs] No, I don't know, I can't separate this.
Max: I mean, obviously rhythm is very important in this kind of music…
Liam: But that doesn't mean that we like it more, though…
Max: Especially in electronic, techno-influenced music – the more the chords change, the more you are going out on a limb. You lose something with that, something idiomatic. It doesn't mean that you can't or shouldn't do it, it's just that it's harder. You can experiment with rhythm and get away with a lot more.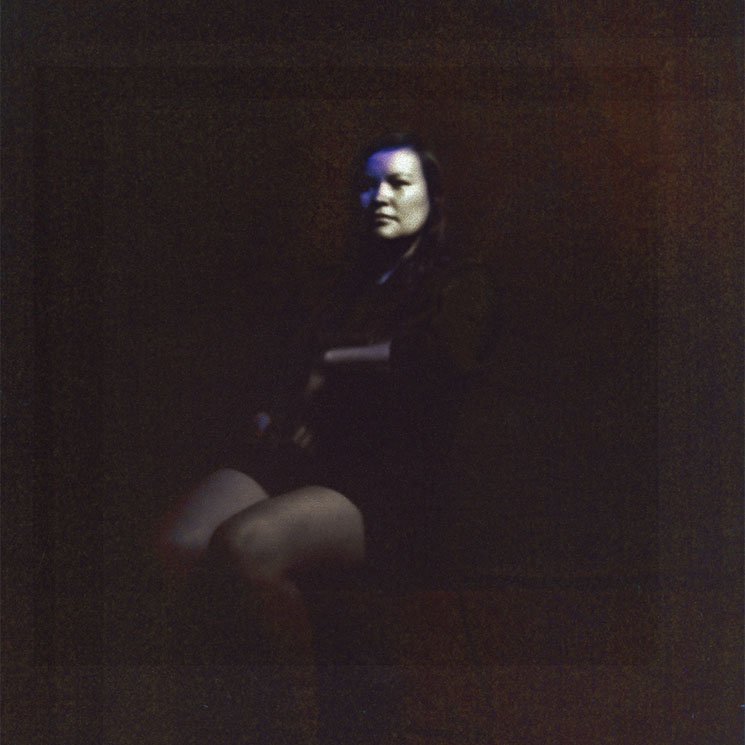 Has the artwork something to do with the theme of the album?
Joe: Yes, it's done with a pinhole camera, which is an old way of photography using four minute exposure. So that girl had to sit there for four minutes without moving. That's basically it. I mean, we were going to do a pinhole camera when we were still thinking of a title for the album. All these separate things and what the theme of the album was, it all just came together when we got the image back. It's part that, part not fully explained.
Letting the listener do the work…
Joe: Yeah. We were definitely trying to tie in the art for every album, and I feel like this one really succeeded. The idea for both [Images du Futur and Hold/Still] was to have something analogue mixed with something digital. Images, I shot that on a digital camera and a visual artist named Scott Hazard does those layered photographs with rips, so it's a very hands-on approach. And this photo was a very hands-on approach [too]. There is very little digital manipulation, but it's there. It's mixing together, kind of like what the band does, too. So that's very inherent. I feel like it works well with all our albums.
What would be a perfect Friday night to you?
Joe: Electric Circus. [laughs] Early dinner.
Ben: Late dinner.
Max: I would say: You've got most of your shopping done, late afternoon on a nice farmer's market. And then you're cooking most of the night and you have people over for dinner. You're eating at ten, and then you just have some nice wines.
"Paralyzer":